Sex... with Pete Searles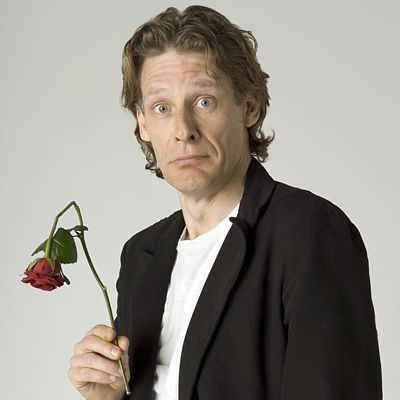 Awarded Hairline Highlight Winner, 2005
CRITIC'S CHOICE COMEDY By Bruce Dessau, Evening Standard
"Peter is part-actor, part-clown, part-raconteur, a man who does not quite fit conveniently into any category…. the nearest comparison is probably late American breeze-shooter Spalding Gray, who was brilliant at telling elaborate autobiographical tales."
peter@petersearles.com
M: +44 (0)785 5112337
The best thing that can happen in an Edinburgh August is finding a show you have heard nothing about, going in with no expectations and being completely bowled over. OK, one of the best things. Peter Searles' utterly charming, bittersweet, seductive show is an unexpected pearl in the oyster on the Seafood Platter of the Fringe…
one of the loveliest laughter-filled hours I have seen.





The Scotsman
Brilliant… one of the best solo shows I've ever seen!
Gyles Brandreth
Sex.. with Pete Searles
Premiered Gilded Balloon – Edinburgh festival 2005
After his much younger girlfriend leaves him for a better looking, richer, more successful friend of his, Searles dissolves into a gibbering, chain-smoking, suicidal-insomniac.
He resorts to the latest new-age self-help healing therapy: EFT (Emotional Freedom Technique) regressing him into a voyage of self re-discovery - where buried memories of past relationships, one-night stands and a very confused childhood - all come bubbling to the surface with hilarious, painful and revelatory results.
This is a true-life tale of one man's journey into his sexual past… that at the age of 47 (and single again) turns into a quest for enlightenment and love… and maybe next time a beautiful young blonde comes floating into the bar, he might think twice (but probably not!).
It will be a sin if Searles isn't nominated for at least one award
- Hairline.org.uk





Haven't laughed so much in ages
- gildedballoon2005reviews.com





One of the loveliest, laughter filled hours I have seen
- The Scotsman





He's definitely one performer I look forward to seeing again next year
- one4review.com





It's a joy
- The List Magazine





Brilliant… one of the best solo shows I've ever seen!
- Gyles Brandreth
The prospect of a 47 year-old man reviewing his sex life isn't the most salubrious suggestion on this year's bill but do try and dispel any images of a grubby old man in a battered mack, as Peter Searles' new show could be one of the best things in Edinburgh this year.
Part stand-up, part storytelling and part fantastic physical comedy, Sex, Life & EFT is a hilarious journey through Searles' entire sex life to date.
From fearing he was pregnant at boarding school to losing the undoubted love of his life to another man, Searles' tale is always thoroughly engaging and captivating.
With his undying energy and perfectly formed expressions and mimes, it is easy to get caught up in the moment and be right there with him as he recounts a lifetime of sexual exploration. Sometimes this isn't what you want to visualize but the honesty of the moments pour out in a delightful deluge of self-mockery.
It would be easy to dismiss this simply as a show for voyeuristic hedonists but it is so much more than that. It is a beautiful love story, a despicable warning and, ultimately, a heart-felt unburdening all rolled into one. Searles has a wicked sense of humour and a grandiose sense of drama and Sex, Life & EFT seems like the perfect vehicle for these.
It will be a sin if Searles isn't nominated for at least one award this year, so grab a ticket while you can – they're going to go fast!
hairline.org.uk





The best thing that can happen in an Edinburgh August is finding a show you have heard nothing about, going in with no expectations and being completely bowled over. OK, one of the best things. Peter Searles' utterly charming, bittersweet, seductive show is an unexpected pearl in the oyster on the Seafood Platter of the Fringe.
Last August Peter met a gorgeous young woman, he tells us. It was love, or something very like it. Until she dumped him. Into the black hole of his post-dumping depression dropped a DVD on EFT. Emotional Freedom Technique. I'll let Peter explain it, he does it very well. This technique triggered memories in him. Memories which he has woven into one of the loveliest laughter-filled hours I have seen. Searles recounts his sexual odyssey from school days to now. I have never heard an audience taken from guffaws of laughter to sympathetic "aahhhh" in a heartbeat, the way Searles' audience is.
Characters from his past fill the space – his father, schoolmates, teenage girlfriends who use Space Hoppers in a very unusual way, one night stands, The Frotters, Great mistakes, women he has loved and lost and one glorious San Franciscan who introduced him to the whole body orgasm. And this guy who, one minute, is getting big laughs about disastrous, drunken sex, gets the whole room in its squishy bits when he tells of having his cuddly chimp confiscated at school. For reasons that are paradigm Peter Searles. And incredibly funny.
As he laughs us through what might be termed the "ins and outs" of his love life, you can see everyone warming to this tall, thin, almost desiccated looking man with the hangdog expression and the soft voice. By the time he has finished the entrancing, funny, sexy section about the San Franciscan and achieving the Whole Body Orgasm, the ladies in the front row are oozing adoration. This guy ultimately holds the entire audience in the palm of his hand… despite having spent an hour telling us just where that hand has been for the past 38 years.
The Scotsman