HEY GRINGO!
For a number of years I toured my shows nationally and internationally (USA, Bermuda, South Africa, The Middle East, Far East and all over Europe). Sell-out shows in the UK included the Cottesloe – National Theatre, Soho Theatre, Royal Exchange Manchester and numerous prestigious literary, arts, comedy and drama festivals.
In 2004 an adaptation of A Chile Christmas was broadcast as the Afternoon Play on BBC Radio 4. (Critic's Choice – Radio Times, The Independent, The Guardian, The Telegraph).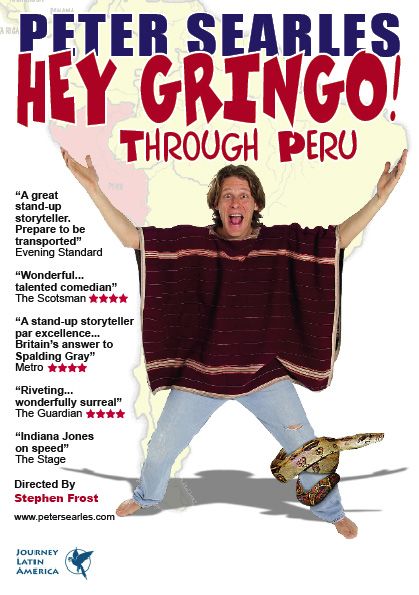 peter@petersearles.com
M: +44 (0)785 5112337
Hey Gringo!

A Chile Christmas
A bloke stands on a bare stage telling us about a holiday he took in Chile more than 15 years ago… an hour and 20 minutes later you are yearning for more. Quite what makes Peter Searles such a riveting storyteller is hard to put a finger on. Maybe it's the way he drops in wonderfully surreal details; or the fact that his tales never quite go the way you expect.





The Guardian
A combination of Bill Bryson's eye for the ridiculous and Rory Bremner's ear for mimicry.





The Metro
Hey Gringo!

Through Peru
A seemingly endless pot of fascinating stories, always well-told, make for a spellbinding evening.





Chortle
Hey Gringo!
Through Peru
Premiered Edinburgh – Gilded Balloon 1997
He bought a ticket, jumped on a plane and set off. No Rough Guide in the world could have prepared him for the consequences...
From the moment his plane lands in Caracas (without his luggage) we're on a roller-coaster ride down unexplored tributaries of the Amazon, across the snow-capped peaks of the Andes and into the depths of one of the most brutal prisons in the world. A catalogue of close scrapes and surprise encounters - drug-smugglers, Dutch airline hostesses, Carmelite monks, Maoist guerrillas, Mancunian ornithologists, Amazonian Indians and a French Shaman - not to mention crocodiles, jaguars and giant shit-eating centipedes
"Proves Searles' credentials as a great stand-up storyteller… it's a fascinating, scary and funny tale from way beyond our normal confines. Prepare to be transported"
Evening Standard
"Peter Searles is an eminently likeable, extremely charismatic and highly skilled practitioner... Escapade after episode evinces a perfect progression from set-up, through a build involving superbly executed accents and physical theatre, to the final unfailing pay-off... In it's poignancy and political punch this matches anything similarly essayed by Spalding Grey or David Hare; Searles is wholly excellent company. I'm going to pay to see Bolivia & Beyond. And a critic can't lavish higher praise than that."
"What's On
"Arguably one of the most down-to earth performances Bermuda audiences have seen to date, Hey Gringo! Through Peru is bare bones theatre at it's best... the story is told with finesse and timing - not to mention faultless dialects... and covers the gamut of emotions. Bermuda Festival Organizers are to be applauded for attracting such an "out of the box" performer to it's annual performing arts repertoire."
Bermuda Sun
"Completely captivated the audience at a packed Daylsford Theatre... with this mixture of Traveller's tales and raw stand-up comedy, spiced with a pinch of mime, Searles may have created a whole new genre of theatre. The festival has done well to recruit a natural raconteur of sharp wit. Let's hope Searles is invited back next year so that those who could not get a ticket this time will not miss out on this rare treat again"
Bermuda Gazette
"Searles can hold his own in the affable charm stakes – he bounces, he flounces, he keeps your interest without appearing to expect it… moving and amusing, this is a thoroughly pleasant, refreshingly undemanding hour's entertainment."
The Scotsman





"Eleven years ago Peter Searles embarked on a seven month South American odyssey - and I'm really glad he did. Funny, sad and intelligently told, this warts and all version of a chaotic South America captures everything; Don't miss this."
Triple F - Edinburgh Independent Guide
'A seemingly endless pot of fascinating stories, always well-told, make for a spellbinding evening.'
Chortle





"Deft, charming, and very funny, English actor Peter Searles tells stories of his South American adventures offhandedly as if we'd just stumbled upon him at the local pub, the energy, humour and blow by blow accounts are worth multiple viewings."
The Union Tribune - San Diego
"And on we go, the tales unfolding like a ride down steaming rapids, the white water both bracing and cold. Throughout Searles is irrepressible and disarming, a natural storyteller."
San Diego Reader
"Deeply funny.... we take our hats off to an amazing storyteller and a stunning physical performer. "
Time Out Dubai
"Hilarious, chilling and very entertaining."
The Glasgow Herald
"Really enjoyable, kick off your shoes, sit back and listen to this well informed, well travelled and very funny entertainer. It's particularly interesting because it comes from a world mercifully far removed from the comedy of girlfriends and boyfriends and the funny things that the guests on the Gerry Springer show come out with. Highly recommended."
The Entertainment Program GLR
Hey Gringo!
Bolivia and Beyond
Premiered Edinburgh - Gilded Balloon 1998
A bar in Cuzco… in the company of a motley crew of world travellers and drifters, a plot is hatched over a game of darts to pop over the border to seek a fabled cave - rumoured to hold the last of the cosmic secrets.
A journey across Bolivia: lawless cities, seedy bars, prisons, jungle night-clubs; drug enforcement agents, gun totting nazis, illegal loggers, giant tarantulas and a marriage-minded lady police officer.  An odyssey that leads finally to a lost world in remotest Amazonia, and the shadow of Cerro Amboro; the great sacred mountain shrouded in mystery and myth…
"Peter Searles' show is like meeting a fascinating stranger in a bar… holds the audience spell bound. This is the show every traveller would love to be able to give."
The Evening News





"Walking, talking travelogues are a great British tradition, be it Michael Palin on TV or David Hare on stage, and Peter Searles tale of his Latin American exploit is no exception…  Like Indiana Jones on speed, he borders on slapstick as he dances with drunken Indians or demonstrates in Spanish how to catch and cook a tarantula… Searles has a hit for the Middle England touring circuit. Whether the Bolivian Tourist Board would seek his services is another matter"
The Stage
"If you've never been tempted to stray further than Bognor or Magaluf - then get down to "Hey Gringo" for a taster of what you've been missing In a myriad accented English and Spanish monologues, that's like a cross between a Radio 4 travelogue and an after-dinner speech, he conjures the lot for our delight; excellent travellers tales."
Time Out
Hey Gringo!
A Chile Christmas
Premiered Edinburgh - Komedia 2000
From the scorching wastes of the Atacama Desert in Northern Chile, we travel south; through shantytowns and smog laden cities to a world of forests, lakes and volcanoes.
Accompanied by over-sexed train drivers, a beautiful young revolutionary, lots of out of work actors, Marxist priests, fascist police, Chilean Eco-warriors, and Pinochet's neighbours… it is a journey that turns into a quest for truth and meaning in land torn apart by thirteen years of military dictatorship. 
"In the mid 1980's, Peter Searles went to South America and ended up in Chile . This wonderful and timely one-man play tells the story of the time he spent there. Delivered raconteur-style, direct to the audience, with no props save his own malleable face, Searles has you in the palm of his hand from the moment he opens his mouth... a natural story-teller and talented comedian; everything about the show is understated and spot-on, including the music."
The Scotsman





"A bloke stands on a bare stage telling us about a holiday he took in Chile more than 15 years ago. It sounds like the definition of dullness, but an hour and 20 minutes later you are yearning for more. Quite what makes Peter Searles such a riveting storyteller is hard to put a finger on. Maybe it's the way he drops in wonderfully surreal details; or the fact that his tales never quite go the way you expect."
The Guardian





"A stand-up storyteller par excellence, Searles is the diametric opposite of a pub bore... a combination of Bill Bryson's eye for the ridiculous and Rory Bremner's ear for mimicry... he could have gone on for another hour and nobody would have batted an eye". Scorched vistas and the shantytowns of the England of the Andes are atmospherically recreated with ease, the funnies underpinned with sharp, shocking political truths; it really is the way he tells'em that makes Searles Britain 's answer to Spalding Gray."
Metro





"Peter Searles has already made two similar outings as writer/performer and the transition has been an intriguing one; Gone are the quaint anecdotes, in their place is a stream of polished observations that create what is essentially a well-honed play, nudged to a fresh dramatic level. Searles has struck it rich for a third time."
The Stage