Throughout his career...
Peter has combined the roles of actor, writer, director, stand-up storyteller, teacher and corporate trainer.
peter@petersearles.com
M: +44 (0)785 5112337
The Stand Edinburgh 2013
Hey Gringo!

Bolivia and Beyond
"Peter Searles is not a stand-up comic but a first-class raconteur and … this is a performance worth seeing. The stories told aren't fantastical enough for doubt to be cast on their veracity, but they do prove to be utterly intoxicating. A mere fifteen minutes in, the audience hangs on his every word… Highly recommended if you're in the mood for yarn-spinning and immersive travelogues."





Three Weeks Edinburgh
Sex, Lies and a DVD
Part stand-up, part storytelling and part fantastic physical comedy, Sex with Peter Searles is a hilarious journey through Searles' entire sex life to date… Pete Searles' new show could be one of the best things in Edinburgh this year…





Awarded Hairline Highlight Winner 2005
In brief…
Since training at LAMDA (1977-80) Peter has worked extensively as an actor in Theatre, Television and Radio. His writing credits include the award-nominated Forest People which he co-wrote with Douglas Hodge for BBC TV and Five Smooth Stones for The Bush Theatre; His numerous directing credits include Fibber In the Heat with comedian/actor Miles Jupp.
Peter is best known for his repertoire of comedic one-man shows – he most recently performed his award-winning Edinburgh show Sex, Lies and a DVD (previously titled Sex… with Pete Searles) on Broadway and at NYU's Tisch School of Performing Arts.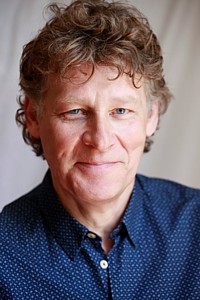 Described as "Part-actor, part-clown, part-raconteur…" (Bruce Dessau – Evening Standard) he has toured all over the world  (USA, Bermuda, The Middle East, Far East, South Africa and all round Europe). Sell out shows in the UK include the Cottesloe – National Theatre, Soho Theatre, Royal Exchange Manchester and numerous prestigious literary, arts, comedy and drama festivals. His adaptation of the third show in his acclaimed Hey Gringo! Trilogy, A Chile Christmas was broadcast as the Afternoon Play on BBC Radio 4.
For the past seven years he has worked as a part-time tutor for Skylight Performing Arts at Crisis – running his own courses in Shakespeare, Creative Writing, Contemporary Storytelling and Mindfulness. He is also passionate about teaching others how to explore and better tell their own stories and regularly runs workshops in the corporate, media and entertainment world.
More clips...